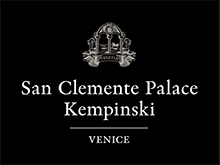 "In 2023, the number of tourists crowding Venice has set an all-time record. Coupled with rising temperatures due to climate change, which continue to affect this summer's visitors to Italy, staying in the cool and calm luxury of the San Clemente Palace offers the ideal combination of exploring what is arguably the most gorgeous city on earth, with a blissful vacation."

GEOFFREY WEILL

FOUNDER & PRESIDENT
The San Clemente Palace resort occupies the entire 20-acre, private island, an 8-minute ride from St. Mark's Square aboard the hotel's traditional wooden motor launches. The island's church dates from 1131 and is an essential element of the hotel estate. In the 17th century, an exquisite additional chapel was built within the original church. This "church-inside-a-church" concept is one of only three in Europe.
The historic hotel's 123 rooms, 45 suites and 29 signature suites offer the largest array of luxury accommodations in Venice. The hotel sits at the center of a gracious park dotted with contemporary sculptures. Its flower-filled, manicured gardens are home to pheasants who amble freely around the gardens.
The resort's park includes a large swimming pool set among palm trees and surrounded by cabanas and chaises longues. Adjacent to the pool is the open-air La Dolce poolside brasserie and bar. The
park offers: a mile-long jogging track bordering the lagoon; tennis court; open-air cinema; fully equipped indoor/outdoor gym; a golf driving range; and a kids' club. An additional highlight of the resort is the luxurious Merchant of Venice Spa.