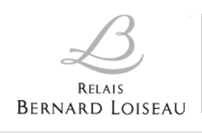 "The Relais Bernard Loiseau is one of those iconic places that just oozes luxury, the hautest cuisine, service that is perfection and, most importantly, all-encompassing Frenchness ."

Geoffrey Weill

President
Once the place jet-setters would break their journey from Paris to the Riviera, Le Relais Bernard Loiseau in Burgundy, a member of Relais & Châteaux, is a tranquil haven of authenticity, extraordinary gastronomy, impeccable service, beauty, charm, luxury and now, one of the most exquisite spas in France…all set in the heart of the world's most fabled wine region.
Located in the town of Saulieu, just an hour outside Dijon, Beaune and some of the best vineyards in the world, Le Relais Bernard Loiseau is surrounded by the scenic mountains of the Morvan Massif. The hotel is known for its gastronomy thanks to its iconic two-star Michelin restaurant, and dedication to former owner, the late Bernard Loiseau, considered one of the best chefs in all of France.
In 2017, Le Relais Bernard Loiseau unveiled a new four-story 16,000-square-foot spa, La Villa Loiseau des Sens, which includes an exclusive spa suite, signature treatments that use local Burgundy blackcurrants, and a new restaurant offering local, organic cuisine. The new spa confirms the reality of the Relais Bernard Loiseau as a destination that pampers every possible sense.